Product Description
Ruggedized Construction Designed to Simplify Installations Indoors and Outdoors
Includes pulling eye and ruggedized jacket designed to protect cable and connectors during installation.  Easily pull through conduit without damaging cable.
Laser optimized fiber optic cable capable of supporting 40 Gigabit Ethernet (40GBASE) and 100 Gigabit Ethernet (100GBASE) networks up to 150 meters. Supports 10 Gigabit Ethernet (10GBASE-SR) networks up to 550 meters. Includes flammability rating OFNP (Plenum) ruggedized black jacket with heat shrink to prevent the zipcord from separating from the connector.
Bend Insensitive Fiber
Constructed with the highest quality Corning Clearcurve Bend Insensitive Fiber (BIF) glass. This premium construction allows us to deliver the best macro-bending performance in the industry – up to 10x less signal loss in tight bend scenarios.
Designed for High-Density Environments
Fiber patch cable can be installed in loops less than an 7.5 mm radius producing less than 0.2 dB bending loss at 850nm to meet the demands for today's hyper-scale data centers.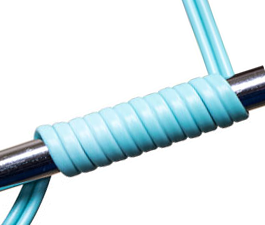 Tested to Meet Industry Standards
Each cable is tested to meet industry standards. Test results are included in a sticker in the bag for every cable for easy documentation.
Approvals: Telcordia GR-326-CORE, TIA/EIA-568-C.3, IEEE802.3z, RoHS Compliant. Manufacturing Facility: ISO-9001 and TUV Certified.
Insertion Loss: ≤0.25dB
Return Loss: ≥25dB
Barcodes for Asset Management Tracking
Document your new fiber patch cables in your infrastructure with a simple scan eliminating paper and manual processes. Labels are printed on both sides of the cable including the serial number, product number and barcode for asset management tracking.
Audit Proof Your Network
No data center is static or simple. With large volumes of equipment moving in and out for maintenance or reconfiguration our barcodes allow you to track, manage and monitor your cable throughout their life cycle with complete ease and efficiency.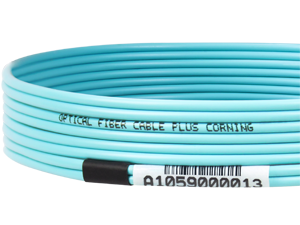 * colorpowercables.com is not affiliated with Corning Inc. All Corning product names are trademarks or registered trademarks of Corning Inc.
Construction
Fiber Type: 50/125μm
Fiber Count: Duplex
Glass: Corning® Clearcurve Bend Insensitive Fiber (BIF)
Polish Type: PC
Connector Type: LC (SC available on request)
Jacket: Ruggedized jacket, flammability rating OFNP (Plenum), 5.5mm outside diameter
Performance
40 and 100 Gigabit Ethernet: up to 150 meters at 850nm
10 Gigabit Ethernet: up to 550 meters at 850nm, up to 300 meters at 1300nm
1 Gigabit Ethernet: up to 1,000 meters at 850nm, up to 550 meters at 1300nm
100 Megabit Ethernet: up to 2,000 meters at 850nm
Insertion Loss: ≤0.25dB
Return Loss: ≥25dB
Durability: >500 Matings
Operating Temperature: -20°C to 70°C (-4°F to 158°F)
Approvals
Telcordia GR-326-CORE
TIA/EIA-568-C.3IEEE802.3zRoHS Compliant
Manufacturing Facility: ISO-9001 and TUV Certified